Written by Mike Halvorsen, founder CompanyEgg.com
---
Over the last several years, Abu Dhabi has become an incredible place for US-based startups to launch and scale. We moved our startup from the US to Abu Dhabi in February of 2020 to scale and grow in Abu Dhabi.
Below are the top ten reasons to grow and scale your startup in Abu Dhabi.
The UAE is in many ways a startup itself
In less than 50 years, the country has become one of the most advanced and forward thinking countries in the entire world. Scholars, experts, and consultants from nearly every country in the world have come here to work in both the public and private sector to share knowledge and best practices from around the world. Upon arrival in the UAE, it's immediately clear the progress that has been made in such a short time.
The UAE has complete religious tolerance, a committment to peace, and true diversity with a large expat community.
Abu Dhabi has many government programs that support both businesses and startups. With nearly $14B USD committed to startups and businesses, there is no place like it.
"Abu Dhabi Economic Vision 2030"
The Government of Abu Dhabi announced a long-term plan for the transformation of the emirate's economy, including a reduced reliance on the oil sector as a source of economic activity over time and a greater focus on knowledge-based industries in the future.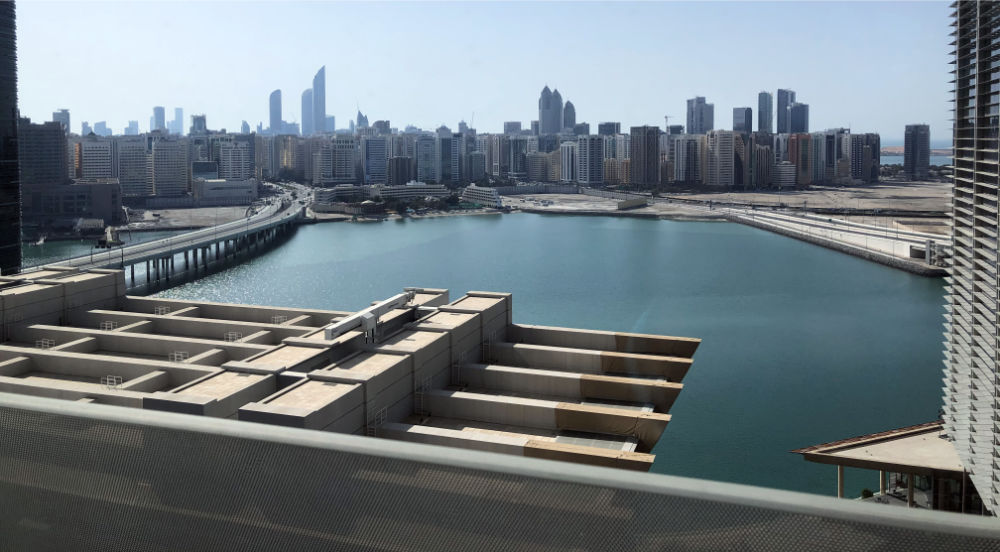 Hub71
The Abu Dhabi government has created several programs to attract startups and provide support in ways that are nearly unheard of in the startup world. One of those programs, the Hub71 Incentive Program, provides health insurance, housing, and office space for employees worth nearly $1M US in benefits for zero equity. Programs like these, sponsored by the UAE government, afford startups like us to expand our runway and scale into the region efficiently.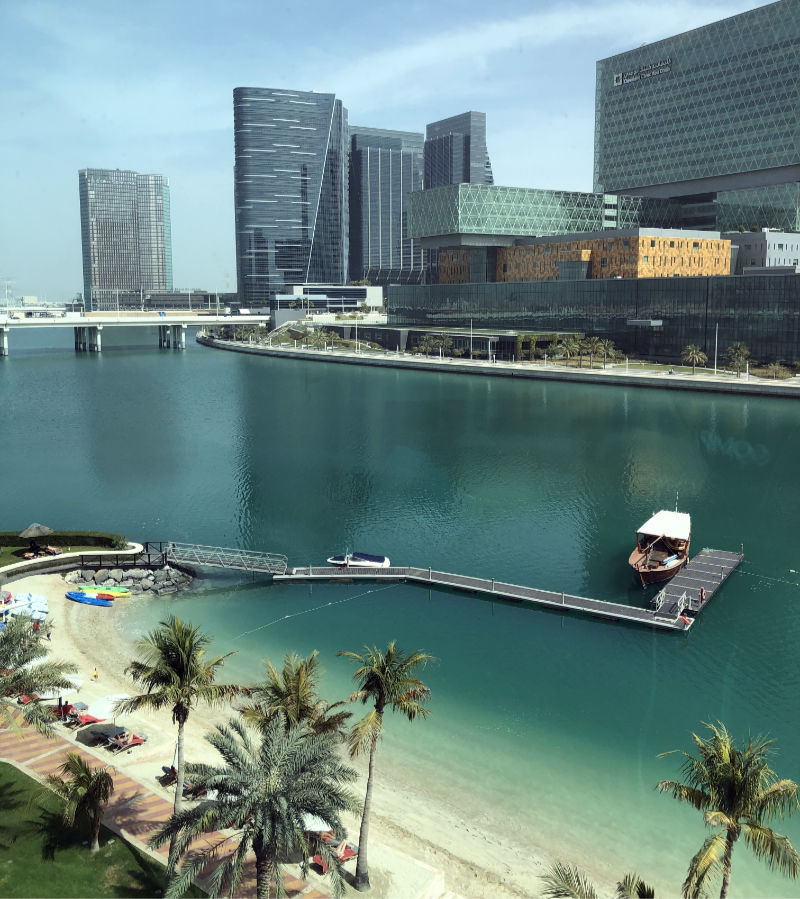 Truly Global City with Expat Community
Abu Dhabi, the capital city of the United Arab Emirates, is one of the weathiest of the seven Emirates. As a whole, the UAE has a population of nearly 10M with more than 8M expatriates living and working in the UAE from 200 countries. Abu Dhabi has a large expatriate population, which makes it one of the most global cities on the planet. Over the course of a month, it's not uncommon to see and talk to people from around the world. I have spoken to people from nearly 50 countries since I have been here.
80% of the world's population is reachable within an eight-hour flight from Abu Dhabi. Abu Dhabi affords startups the ability to be centrally located and have access to emerging markets with some of the youngest populations on the planet. We have incredible access to talent from all over the world.
English is Widely Used
While Arabic is the official language, it's nearly impossible to find people who do not speak English. Nearly every sign, including business signs, is also in English.
Safety
Abu Dhabi is consistently ranked one of the safest cities on the planet. According to the Economist "Safe Cities" 2019 report, Abu Dhabi is ranked #11 for personal security. My co-founder has been to more than 35 countries and I have been to 10. We can attest to the safety of Abu Dhabi.
Unbelievable Park and Walkway System
Abu Dhabi has an unbelievable park and walkway system across the city. It is one of the most pedestrian friendly cities in the world with paved and rubberized walkways and bike paths all over the city. In April 2020, the city finished a $35M USD project of adding an additional 30 miles of paths across 28 locations.
The Abu Dhabi Corniche is a 7.5 mile multilane oceanfront walkway and bikeway with parks and greenery throughout. You can walk it 24/7 with complete safety and unwind from your day. All along the Corniche, there are exercise stations offering a complete exercise routine.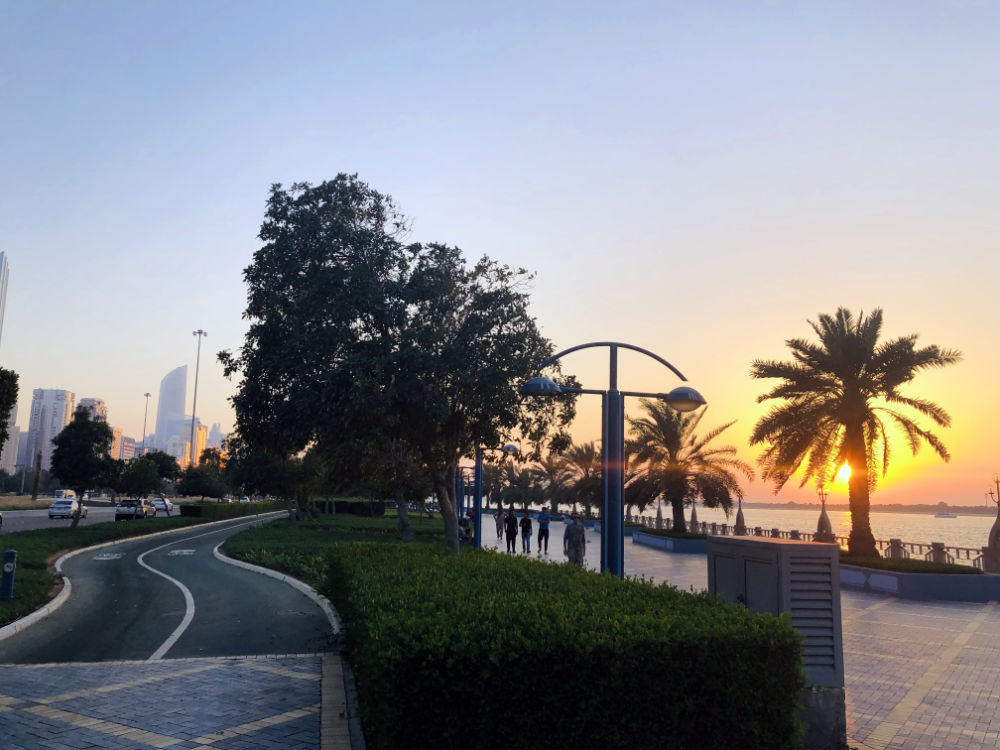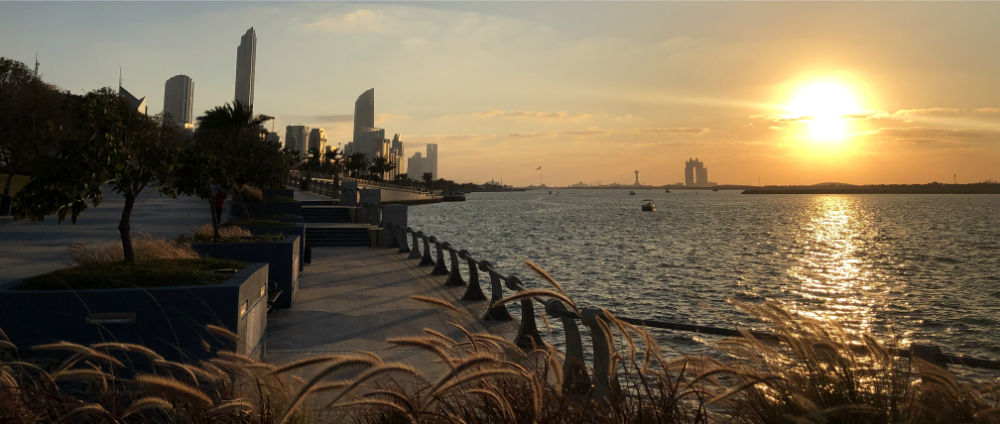 If you enjoy biking, Abu Dhabi has great rides:
CORNICHE BIKE TRACK - a leisurely, scenic drive along the coast of Abu Dhabi
AL HUDAYRIAT ISLAND TRACK - Seaview track on a newly developed "sport" island
AL WATHBA DESERT CYCLE TRACK - a loop desert track 40km from Abu Dhabi
QASR AL SARAB FAT BIKE TOURS - Dune cycling with fat bikes through the Empty Quarter
YAS MARINA CIRCUIT - Night cycling on the original Abu Dhabi Grand Prix Track
Amazing public transport and taxi system
Abu Dhabi has one of the safest, cleanest and most efficient public transport systems in the world. The Abu Dhabi bus system has complete coverage throughout the city and can get you to your location cheaply. Bus fares cost less than $1 USD.
You absolutely and positively do not need to own a car in Abu Dhabi. Commuting and traveling throughout the city is easy. Comparing the taxi ride from the airport to the city center, it is nearly 10x cheaper than any large city in the US.
If you lose your phone or a personal item in a bus or taxi, it's easy to get it back. We lost a phone on a bus and got it back 10 minutes later.
Fast and stable internet connectivity
Wifi is everywhere. Blazing fast internet is available at every hotel and every shopping space. 50MB download is the norm in both hotels and co-working spaces. In addition to the fast internet access, Amazon, Cloudflare, and Microsoft have data centers throughout the UAE.
Free-zones
Abu Dhabi Global Market (ADGM) is a purpose built financial hub with one of the most forward thinking regulatory frameworks in the world that is built to scale high tech and financial companies.
Hub71 includes entity formation at ADGM as well as 3 and 5 year visas.
Amazing Weather and Sunshine Year Round
Abu Dhabi has a sub-tropical climate. High temperatures and sunny blue skies can be expected most of the year with nearly year round sunshine. Abu Dhabi is one of the ten places on earth with the most sun. We enjoy 3,600 hours of sunshine each year.
December, January, February, and March are considered the winter months in Abu Dhabi with temperatures ranging from 73-82° F.
April to June, you can expect temperatures ranging from 82-102° F.
July and August are the hottest months in Abu Dhabi with temperatures ranging from 100-114° F.
September through November, you can expect temperatures ranging from 82-102° F.
Stable Currency Exchange Rate
The currency exchange rate is stable. Investors consider the UAE dirham to be among the world's most stable currencies in terms of exchange rate stability. It has been pegged to the United States dollar since 1973.
Since 1997, it has been set at a rate of $1 USD to $3.6725 AED.
Learn More
Abu Dhabi is one of the most amazing cities in the world. The unique government-backed startup programs are extremely forward thinking and offer startups great incentives without taking an equity stake. Being centrally located in the Middle East, Abu Dhabi is a great place to scale your tech startup.
The city is one of the most modern you'll find anywhere in the world. The people of Abu Dhabi are most welcoming.
In addition to a world-class business ecosystem, there are fantastic cultural and tourism opportunities offering startups and their employees great options for leisure.
Be sure to check out the Hub71 Incentive Program.
Share this Article:
10 Reasons to Grow Your American Startup in Abu Dhabi - Why CompanyEgg Moved to Abu Dhabi