Sam Altman is scheduled to host a live question and answer (Q&A) session on Tuesday, June 6th, at 6AM PST at the Abu Dhabi Global Market (ADGM). This dynamic session will provide an open forum where discussions on the future of AI, its opportunities, challenges, and its potential impact on the global landscape will be led by your questions.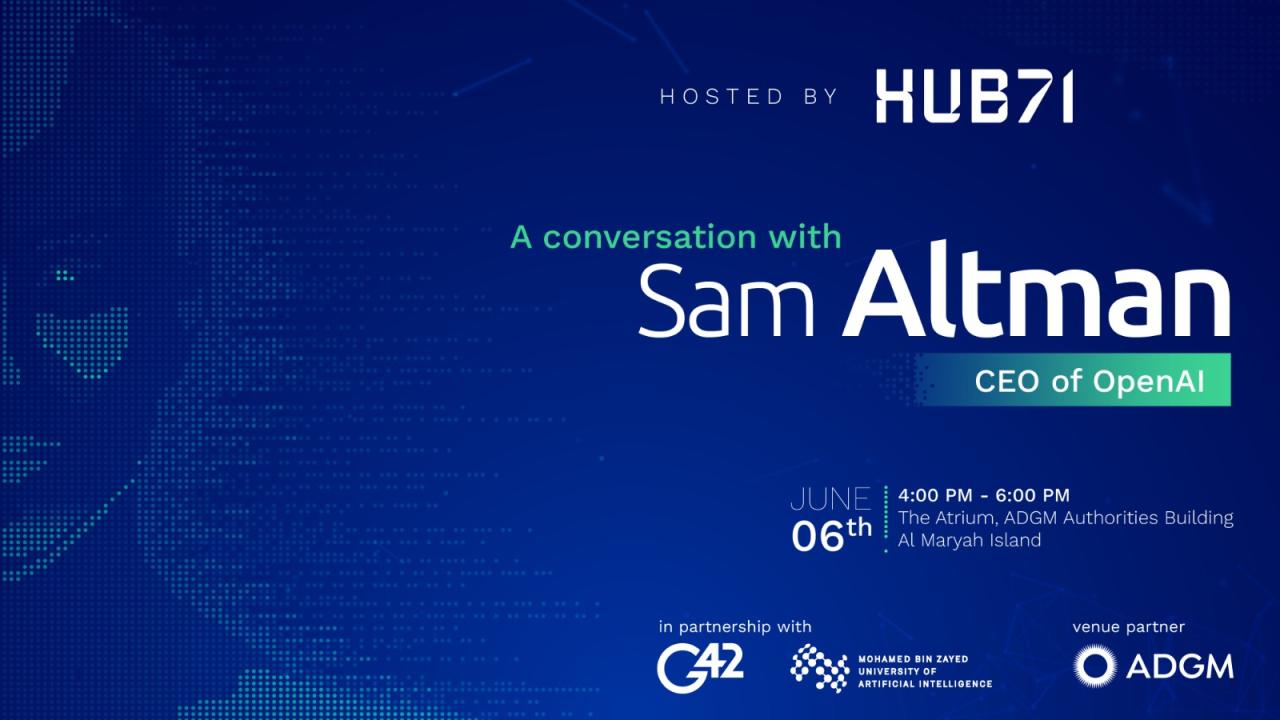 Sam Altman, President of Y Combinator between 2014 and 2019, and currently CEO of OpenAI, is an acknowledged leader in the global technology arena. He's renowned for his foresight and deep understanding of AI and its implications for the future. His leadership at Y Combinator, a famed startup accelerator, oversaw the growth of many successful companies. Altman later transitioned into leading OpenAI, an artificial intelligence research lab consisting of the for-profit arm OpenAI LP and its parent company, the non-profit OpenAI Inc.
OpenAI, where Altman holds his current CEO position, was established with the goal of advancing digital intelligence to benefit humanity. With a mission to ensure that artificial general intelligence (AGI) benefits all of humanity, OpenAI is committed to principles that emphasize broadly distributed benefits, long-term safety, technical leadership, and cooperative orientation. It is at the forefront of advancing AI capabilities and has released several high-profile AI models, like GPT-3, which have significantly contributed to understanding the potential and challenges of AI.
The Q&A session will take place at the Abu Dhabi Global Market (ADGM), an international financial center located in Al Maryah Island in the heart of UAE's capital city. Since its establishment in 2013, ADGM has been a major player in the financial sector of the Middle East and North Africa (MENA) region, offering a progressive legal and business environment. The choice of location for this Q&A session underscores the growing influence of the MENA region in the global tech landscape and emphasizes Abu Dhabi's strategic position as a link between the East and the West.
The session's focus will be to explore the future of AI, its opportunities, and its challenges. AI has been a transformative technology, reshaping industries and society. The session is an exceptional opportunity for participants to gain insights from a leader in the field, about how AI can be expected to further change the global landscape in the years to come.
During the Q&A, Altman will field questions, providing attendees a unique opportunity to engage directly with him. This format allows for a wide range of topics, from AI ethics to technical aspects, and offers a rare glimpse into the mind of a leading innovator and thinker in the AI field.
This live Q&A session is not just an event, but an opportunity to engage in a conversation about the future of AI, its potential impacts, and the ethical considerations it raises. Participants will leave with a deeper understanding of AI, its implications on society, and the potential directions AI development might take in the future.
The discussion is an invitation to all - whether you're a student, a tech enthusiast, a professional in the field, or simply someone curious about the future - to join and contribute to this important conversation. With Sam Altman at the helm, this Q&A session promises to be enlightening, engaging, and full of insights on how AI is set to reshape our world.
The Q&A with Sam Altman is a remarkable opportunity to engage directly with a thought leader in AI, to delve into the future of this exciting and transformative field, and to further our understanding of the potential that AI has to offer. The event promises to be a valuable contribution to the ongoing global dialogue on the future of AI and its impact on our lives and society.